부팅시 chrome 자동실행
설정> 사용자및 그룹> 로그인항목> 체크해제
Dock> 옵션> 로그인시 열기 > 체크해제
[Mac] install
준비
iTunes에서 로그아웃하기
iTunes – 메뉴 Account(계정) > 인증 > 이 컴퓨터 인증 해제
iCloud에서 로그아웃하기
Apple메뉴 > 시스템 환경설정>iCloud> '로그아웃' 버튼
iMessage에서 로그아웃하기
메시지 앱> 환경설정> '계정'> '로그아웃'
쌍으로 연결된 Bluetooth 기기를 계속 사용할 경우 연결 해제
업데이트 서버 찾기를 위한 time update
ntpdate -u time.apple.com
System Preferences
Update
Apple menu > About This Mac > Software Update.
보안 및 개인정보: 잠금화면 메시지 설정
잠금화면에서 자신의 이름이나 이메일 등이 표시되도록. 분실시 찾아줄 수 있게
설정 -> 보안 및 개인정보 -> 일반 -> 잠금 메시지 설정
Language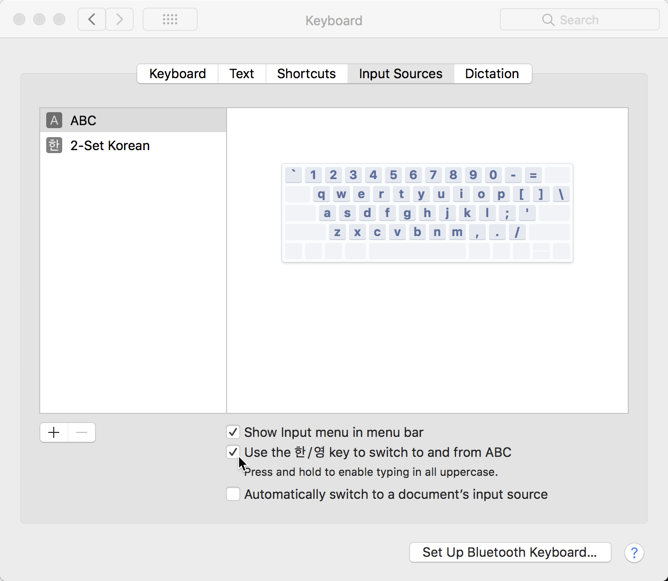 Trackpad
Enable Tap to click
Spotlight
Uncheck fonts, images, files etc.
Uncheck the keyboard shortcuts as we'll be replacing them with Alfred.
Internet Accounts
Add an iCloud account and sync Calendar, Find my mac, Contacts etc.
2.자주 쓰는 도구들 설치
Xcode
그냥 좀 아까워도 정신건강을 위해 그냥 Xcode설치 ( XCode Command Line Tools 만 설치하지 말고) from app store
Homebrew 설치
Mac용 Command installer. 앞으로는 커맨드로 왠만한 도구들을 설치 https://brew.sh/ (없으면 Xcode설치됨)
~|➜ /usr/bin/ruby -e "$(curl -fsSL https://raw.githubusercontent.com/Homebrew/install/master/install)"
설정확인
~|➜ brew config
Dropbox
~|➜ brew cask install dropbox
iTerms2
http://sourabhbajaj.com/mac-setup/iTerm/README.html
iTerm2.
~|➜ brew cask install iterm2
zsh
~|➜ brew install zsh zsh-completions
oh-my-zsh
Dropbox연결
profiles -> Default (복사 Sixx)-> Terminal -> Check silence bell
여기서 다운, iTerm2-Color-Schemes-master>schemes>Monokai Soda.itermcolors
Widnow (Background)
~/.zshrc <= ~/Dropbox/dotconfig/zsh/.zshrc
ln -s ~/Dropbox/dotconfig/zsh/.zshrc ~/.zshrc
oh my zsh 설치
shell이라면 zsh !! bash 안녕~! (but 저사양 맥북에서는 때때로 느려질때도..)
curl -L https://github.com/robbyrussell/oh-my-zsh/raw/master/tools/install.sh | sh

참고: https://github.com/robbyrussell/oh-my-zsh
zsh command syntax highlighting 만들기
https://github.com/zsh-users/zsh-syntax-highlighting
sublime text
Sublime text
~|➜ brew cask install sublime-text
–
|➜ cd ~/Library/Application\ Support/Sublime\ Text\ 3/Packages/
|➜ rm -r User
|➜ ln -s ~/Dropbox/dotconfig/Sublime/User
mpv
~|➜ brew cask install mpv
~/.config/mpv|➜ ll
ln -s ~/Dropbox/dotconfig/mpv/input.conf ~/.config/mpv/input.conf
ln -s ~/Dropbox/dotconfig/mpv/mpv.conf ~/.config/mpv/mpv.conf
Double commander
http://onesixx.com/double-commander/
|➜ ln -s ~/Dropbox/dotconfig/doublecmd ~/Library/Preferences/doublecmd
설치
brew cask install dropbox
brew cask install iterm2
brew cask install sublime-text
brew cask install mpv
brew cask install double-commander
brew cask install java8
brew cask install caffeine
brew cask install virtualbox
brew cask install snagit
brew cask install beyond-compare
brew cask install evernote
brew cask install teamviewer
brew cask install spotify
brew cask install transmission
brew cask install xquartz
brew cask install citrix-receiver
brew cask install filezilla
from AppStore
App Cleaner & Uninstaller
Day One
PopClip : text 선택시 이런저런 사용가능한 action 이 popup으로 뜸
Yoink : 임시 스택 of everything
Wunderlist : 할일 관리
etc
Install ntfs-3g
$ brew install homebrew/fuse/ntfs-3g
osxfuse
FUSE(File-system in USEr space). NTFS 읽기뿐만아니라 쓰기도 가능하도록
$ brew cask install osxfuse
command line tool without Xcode
Terminal에서 설치
~|➜ xcode-select --install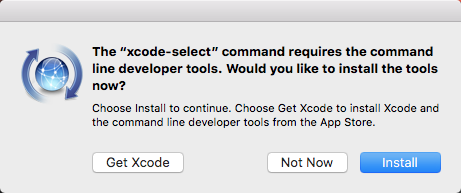 설치경로
~|➜ /Library/Developer/CommandLineTools/
설치확인
~|➜ sudo xcodebuild -license