dynamic UI 생성방법 5가지
사용자 Input에 따라 반응하는 UI 만들기
| | | |
| --- | --- | --- |
| ui | server | |
| uiOuput | renderUI | |
| uiOuput | InsertUI/ RemoveUI | |
| ConditionalPanel | | |
| Use JavaScript | | 웹페이지에서 직접 수정 |
| useShinyjs | | ex) hide/show , toggle |
conditionalPanel ()
ui.R 에서 정의하는 conditionalPanel()은 dynamic하게 shown/hidden할 UI요소들 묶어서 조건에 따라 반응한다.
renderUI () function
server.R 에서 정의하는 renderUI()는 ui.R의 uiOutput()와 같이 사용하며,
reactive을 이용하여 UI함수가 호출되도록 만들어 놓고, Input에 따라 reactive가 반응할때, UI에서 미리 정의해 놓은 결과를 보여준다.
insertUI() 와 removeUI()
server.R 에서 정의하는 insertUI()는
allow you to add and remove arbitrary chunks of UI code (all independent from one another), as many times as you want, whenever you want, wherever you want.
Use JavaScript
to modify the webpage directly.
shinyjs
hide/show , toggle
renderUI (uiOutput)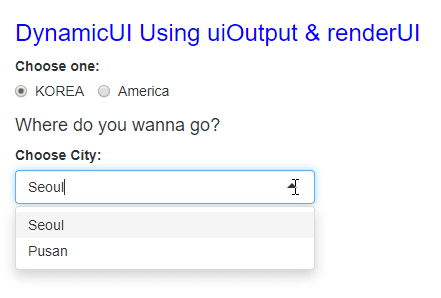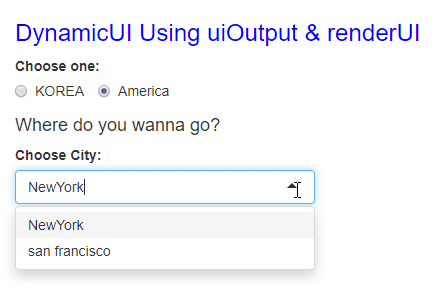 ex> SideBar내 select Input 간 Dynamic
UI에서 하나의 object의 결과가 다른 object에 영향을 줄 때, (즉 UI에서 Object의 property가 Dynamic하게 변경될 때) ui.R에서해당 updateComponent로UI컨트롤을 변경하는 것이 아니라, uiOutput()으로 위치만 정의하고,
server.R에서 정의와 처리를 동시에 한다.
Tab 간 Dynamic
Dynamic UI (with renderUI & outputUI)
If you want to return a block of UI elements – say a paragraph,
then a text box and a selector – you would use renderUI and uiOutput(outputUI) and instead of returning one object,
you return a list or tagList of objects (these functions can be used interchangeably).
Example app: Dynamic user interface
하나의 Object를 return받는 것 대신, Object의 list를 return한다.
아래 예에서, my_output_UI output 은 h4 header and a selector의 list 이다.
The selector gets updated when the user clicks on the button (note observeEvent).
Each time the user clicks the button the selections gets updated.
Without uiOutput, renderUI
ex> BC Liquor Store data (bcl-data)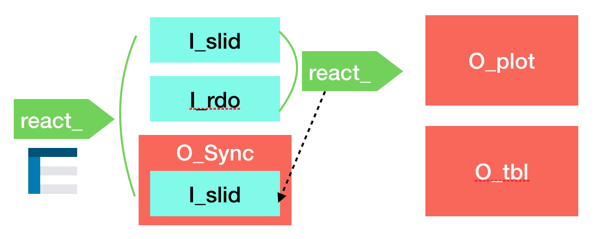 renderUI sweetalertR